On the fourth Thursday of the month of November, we will be celebrating American Thanksgiving. This is normally a time for families and friends to get together for a big feast and to be thankful for a successful harvest. This year, the second pandemic lockdown is keeping all of us at home, but we can still be thankful. We are thankful this year for an abundant harvest from our olive trees, and we are also thankful for having such wonderful neighbors. Neighbors have been an important part of our life at Villa Ndio. Here is an essay on how we came to live here at Villa Ndio and some of the things we have appreciated doing with our neighbors.
Many years ago, we fell in love with the house that became our home when it was vacant and run-down. It was attached to the home, Lou Baguié, that had been purchased by my husband's parents for their retirement. When we first visited them at Lou Baguié, they were officially retired from the US foreign service. But they were still doing consulting work on short-term contracts with the World Bank, mostly in Africa.  It was convenient for them to travel from Grasse by way of the international airport in Nice to places like Addis Ababa or Dakar. Eventually, they stopped doing this and settled down in their retirement home.
My family and I loved to visit them at Lou Baguié.  We usually stayed in the Matisse Room which featured his prints. It also featured the marvelous Mediterranean light that Matisse had captured in his paintings. We also enjoyed sitting in the sunshine in the garden looking up at a hillside view of cypress and olive trees and cream-colored villas with red-tiled roofs. We often remarked that it could have been painted by Cezanne.
When we were living in the States, our visits were limited – once in the summer and once in the winter. When we moved to Switzerland, we were able to visit more often. Each time we came for a visit, we noticed that the house next door was unoccupied. We admired its stone walls and big shuttered windows, and it had a cobblestone courtyard with a quaint old well that no longer functioned. We dreamed of having such a rustic place for our family holidays so close to the grandparents.
The owners were a brother and sister, both of whom lived elsewhere. They were involved in a long legal dispute about what to do with it.  Eventually, we learned that they had decided to sell the property, and we eagerly arranged to see the inside of the house. It was a disaster! The plumbing and electricity were decrepit, and there was only an old sink in the kitchen. Every room needed work to make it livable. And the terrain was overgrown through years of neglect, with a wide array of olive, cherry and plum trees in the midst of all the brambles,  But it was also incredibly charming – so very "Provencal"!
We quickly made them an offer before they could put it on the market. We chose to name it "Villa Ndio", which means "Villa Yes!" in Swahili. It was – and still is – a dream fulfilled! In the first few years, we were delighted to occupy the home for our vacations. That gave us time to do some renovations to make it livable. We also discovered the benefits of fresh cherries in the springtime, plums in the early summer and olives in the fall. We eventually made it our primary residence, and now it is our own retirement home. And we now have the time to harvest our olive trees, as you can see!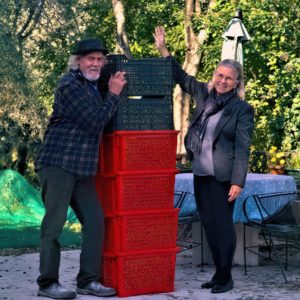 One of the advantages of buying the home next to my parents-in-law was the ease with which we got to know our neighbors. First and most important, of course, was the fact that our children had a set of grandparents as their closest neighbors. But through them we also got to know the others in the neighborhood, and they continued to be wonderful neighbors.
We had one neighbor who lives with her husband on a large estate, and she would regularly bring us fresh vegetables from their garden and fresh eggs from their chickens!  In the early spring, she would even bring us large branches of mimosa blossoms to cheer us up. Another neighbor liked to collect antiques, and she often invited us to accompany her to special events. Our closest neighbor was a retired boutique owner from Paris who charmed us with her outgoing personality and her elegant attire (especially her fabulous collection of earrings). Best of all, she was a gourmet cook. Whenever we shared an aperitif with her in her home or garden we would be treated to a series of exotic preparations from her own kitchen.
Sadly, this very special neighbor passed away with cancer at much too early an age. Fortunately, in a way, she never encountered the worries of the pandemic that we are all experiencing today. But we miss her greatly. I regularly pass by her shuttered home for my morning walk. It has been vacant for almost two years now, but I still like to peak through her gate to admire her rose garden and to remember our happy times together.
She herself was a widow with no children, and her only surviving family is a brother who decided to sell her lovely home. The buyers are a young family of two parents who are both teachers and a son who looks to be around 8 or 9. This will be a big change for us! We are looking forward to welcoming them to their new home and neighborhood in early December. Of course, the lockdown might still be in effect through December, but we are at least planning to give them a platter of our homemade Christmas cookies.
By the way, we also acquired new neighbors when my parents-in-law passed away a few years ago. The new occupants of Lou Baguié are a couple of young women who have become good friends to us. They have added many lovely modifications to their property, such as a boule court, while also retaining some of the old features, such as a stone bench in their garden that my parents-in-law had also enjoyed.  The most dramatic change is the recent addition of a new swimming pool. Here are some photographs of before and after the installation of the pool. It is still a work in progress.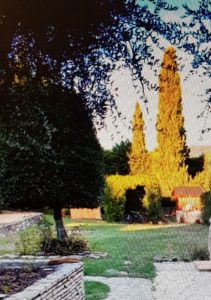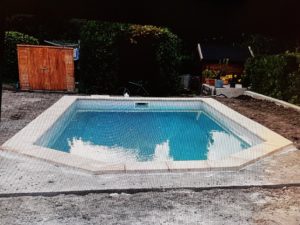 .
Because the pool has a solid frame made of fiberglass, it had to be delivered by helicopter.  We participated in the filming of the delivery, and here are some more photographs showing how the helicopter picked up the pool on the street nearby and dropped it into the big hole in their yard.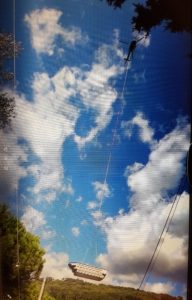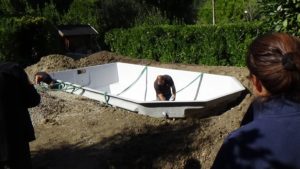 Wishing you a happy Thanksgiving, I hope you are all staying safe and doing well. I am thankful that you are my "virtual neighbors", too!