The conversation has begun. It's not over, and one could also argue that it isn't really a beginning, either. But one can't really ignore how the tragic death of George Floyd has altered everything. My own reflections on racism in America and in France are, at least, a new beginning for me.  They express a personal dilemma of dissatisfaction with  homogeneity – the French call it "universalism" – and yet a greater awareness these days of not knowing what should take its place.  It has now become a new and expanding conversation – with friends and family, whose sharing of their own personal experiences and recommendations are included here.
The comments are clustered in three categories – Hagen family members who have shared specific recollections of Minnesota life and culture;  Doggett family members who have drawn on their own experiences, many of them global, to share insights and ideas; and close friends from multiple backgrounds who have also shared their perspectives and hopes for the future.  At the end are a few personal follow-up remarks but only to keep this conversation going. Here are the selections in the order that they appear:
Hagens Building on Minnesota Experiences
Deborah Smith
Elizabeth Hagen Smith
Janet Hagen
Camille Rogers
Doggetts Building on Global Experiences
Kristina Doggett Hagen
Niko Doggett
Barbara Maria Doggett
Tony Doggett
Elizabeth Davis
Gina Doggett
Jeanie Smith
Carol Doggett Smith
Friends: Experiences and Perspectives
Ken Jones, WHF 79-80
Lou Ruch, NC Fambly
Barbara Ruby, NC Fambly
Paul Sweeney, WHF 79-80
Judy Mercado, WHF 79-80
Daniel Warner, Geneva Network
Jay Reich, WHF 79-80
Hagens building on Minnesota experiences
This selection includes reflections from sisters Elizabeth Hagen Smith and Janet Hagen and cousin Camille Rogers. It starts with research done by niece Deborah Smith, daughter of Elizabeth Hagen Smith, on a history of racial covenants in Edina, Minnesota.
Deborah Smith, 20 June
I was curious in Kathy's message about racial covenants in Minnesota and specifically about 5129 Tifton Drive in Edina. (Kathy's Note: This was the second of two homes occupied at different times by the Hagen family.)  I checked and it was built in 1955, which was just after the Minnesota legislature banned racial housing covenants.
I notice that in the About page on the Mapping Prejudice site (https://www.mappingprejudice.org/) they find that the first covenant from 1910 stipulated the  "premises shall not at any time be conveyed, mortgaged or leased to any person or persons of Chinese, Japanese, Moorish, Turkish, Negro, Mongolian or African blood or descent."  This is interesting. Do you know if your mom Bertha became more aware of her Forest Finn roots before or after the 1968 (federal) Fair Housing Act? I ask because Finnish Americans were routinely classified as non-white "Mongoloid". So the 1910 covenant in Minnesota was partly seeking to keep Finnish Americans out. It would seem there would have been a personal disincentive to share full details of any Finnish ancestry within the American housing context of the 1900s.
If you look at the mapping site you'll see a lot of the 1940s covenants restricted ownership and occupancy to 'Caucasians'. Again, this would have excluded the Finnish 'mongoloids' and was also terminology that excluded Jews, Italians, and Greeks ('semitic'), plus presumably south Asians. I would suggest that there is an irony here and that both your parents 'passed' for Scandinavian white through their parents' Swedish and Norwegian passports, but research suggests their ancestors were Finns (Johansons and Mattsons), Jews (Christine Samuelson's side), and probably Romani (maybe Hagen side) – all groups that these covenants were seeking to exclude. In any case, the good news is that the Tifton Drive house was built after the covenants were outlawed by the state.
(Kathy's Note: The original Edina home was at 6109 St. John's Avenue.) According to the mapping project, no covenants were identified on 6109 St. John's Avenue or the immediately surrounding homes.  There were homes further away in the neighborhood that have covenants dating from the 1920s and 1940s but nothing in your old block. Sad to say, your old house looks like it was torn down and a newer bigger one built on the lot that recently sold for close to 1m. (Note: I don't think it was torn down – just massively expanded. There are neighboring houses that are still the originals – in a whole row of some 10 houses built by the same architect.)
Elizabeth Hagen Smith, 20 June
We moved to St John's Avenue in 1954. After moving from Cokato following my high school graduation. For a few months we lived on Wentworth Ave in Mpls. Until the house was ready and we could move in. The street might have been muddy, like the whole neighborhood as all the houses were being built.
The Tifton Avenue house was after the  second stint in India. 1962/3.
The St John's house was sold in late 1959 or early 1960 – after my Oberlin graduation and after mom and dad's 25th wedding anniversary. And after I sailed off to Japan for my first post-college job.
To me, the absolutely best thing about the St John's house was the swamp/"lake" in the back which froze over solidly in the winter so one could skate through the reeds.  How exciting it was to skate as the ice "cracked" (safe, of course, cuz the ice was solidly frozen). And how free it was to skate in the "wild" beyond civilization. But Janet did break her arm sledding down the "hill" towards the frozen swamp hitting the mound of whatever (debris?) before reaching the swamp edge. Uff!  Of course the superb swing set that Dad installed was terrific. And how inviting the back yard was for family reunion picnics. (See the swamp/"lake" and swing set in the photo below with a back view of 6109 St. John's Avenue.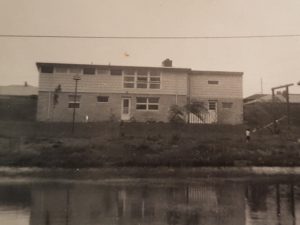 Elizabeth Smith cont.,
More comment on Edina. I certainly was aware of the lily white complexion of Edina and commented on it at many occasions in family conversations. It made me uncomfortable. Remember I worked in the city for a year after high school. Riding via Lake Street – which was largely white then – morning and evening daily. My reading was War and Peace. Then Crime and Punishment. The great Russians – during the Cold War. While Kathy – maybe Janet too – had school drills on scurrying under desks.  Remember?
Normandale Lutheran Church had a black minister intern one summer and we young adults (post high school) were a good sized group of earnest Lutherans seeking civil rights activism which was a real stretch in the white neighborhoods we lived in. We stumbled along all the while aware that for many in the group our efforts were not echoed in the families they came from. (Not for me, as mom and dad were definitely at the liberal end of the spectrum).
My consciousness was aroused frequently as I walked from my downtown job in an office building to the Sister Kenny Institute to visit friend Shirley encased in an iron lung (later on a chest respirator). The walk in all seasons was through a black neighborhood which allowed me the opportunity to observe the social setting. I became deeply aware of how important car ownership was and how lovingly the cars were washed and polished and polished. I remember musing that it was a compensation for not being able to own homes. This was 1954-1955. I cannot remember how I became so aware except through  the simple walking I did during that year. (As I remarked earlier I was reading Russian literature – so it wasn't any civil rights brochures). But I have to wonder if there wasn't something in the air of progressive thought that somehow or other filtered into my brain – but also of course the anti-colonial bias I was nurtured on in India. (Yes, Mom and I – not the rest of the family – were surrounded by the Independence era riots and faced the racism in missionaries as we left Landour). (Note: I thought I was with you for that but too young, at the age of two, to remember anything. Dad was somewhere else getting language training or some such, and Janet was born later.)
Janet Hagen, 20 June
I have attached a photo from my trip to Edina in 2018 to visit with my childhood friend, Lou Ellen, and her mother Phyllis.  (Kathy's Note: Jan's 2018 photo of 6109 St. John's Avenue is the top one below. The second one, also taken by Jan, was the same address in 2006, when it still looked the way it was when we lived there.)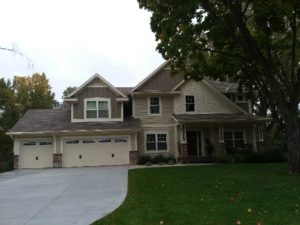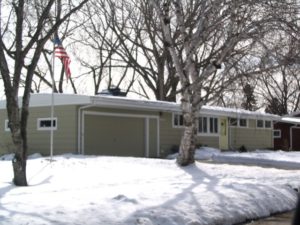 They lived further down the street from us on St. Johns Avenue.  Phyllis passed away in 2019; she was a lovely person and always had a twinkle in her eye.  We were at dinner together when I visited in 2018 and learned that Phyllis was a staunch Trump supporter.  So, I didn't talk politics anymore with them.  As I recall, most of the adults on the St. Johns block were Republicans, of the Ike Eisenhower era.  Dad was a Republican, but I doubt he would be affiliated with the party today.
Living at 6109 St.John's Avenue were some of the happiest years of my childhood.  We played a lot in the back yards, which were not separated by fences, so we could run up and down and around.  The houses had walk-out basements, which gave us quick access to the playground there.  The swingset was fabulous;  I remember swinging so hard that I circled the top post.  We played "Captain May I" and "Pom Pom Pull Away" all seasons of the year, i.e., on the frozen pond in w. inter. There were several cattails and such in the water, so in winter, they were great for playing hide and seek and building forts.  "Annie Annie Over" was a popular game in the warmer months – throwing a tennis ball from the front lawn to the back lawn and vice versa.  Most of the houses were built (designed?) by ______ Manley, who lived at the corner; all the houses had walkout basements. We were one of the first occupants on that street.
Nearby was a construction area we called "Kingdom Come."  Someone had put a rope on a tree, from which we would swing out and jump into a pile of sand. Of course I told Mom I would not go there….In the summer we would walk to the Edina pool for swimming lessons and went by a house where a crazy, mean man lived.  He would come out with a shotgun and threaten to shoot it off if we went on his property.
As I recall, Dad had a practice at the RIchfield Hub area and then decided to start a practice at Southdale Medical Building, which prompted our move to Edina.  Or was it the other way around?
5129 Tifton Drive was also a nice place to live, but this was post-India.  (Kathy's Note: Here is a current photo of this house, not much changed from the 1960s and 1970s when we lived there. But our vehicles fit into the garage – in contrast to the SUV and RV in the driveway here!)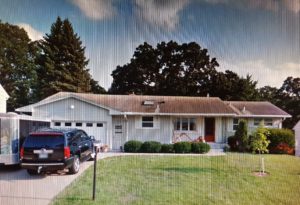 We also lived for a short time on Highwood Drive (a rental home).  Being back in the U.S.  was quite an adjustment.  I didn't understand that the girls didn't want to go outside to play, so I sat inside most of the time and ate peach sundaes (my weight skyrocketed… )  Mom said she was too shy to hang the laundry outside and would do it in the dark.  One time I locked myself out of the house (at Thanksgiving time, when it was getting colder) and, since Mom and Dad had left to drive Grandma Hagen back to where she lived, I was alone.  Too shy to go ask the neighbors for help. So I built a little fire in the garage, by the car (Duh!  I know!).  Mom was so happy to see me alive and that the house hadn't blown up.
Kathy, I reacted to your article on racism and the covenant issue on your web site.  Suffice it to say, I appreciate all the research you have done (and you too, Deb!) to educate us on things we did not know and were not aware of regarding the communities in which we lived in Minnesota.  As I said on your site, we work for peace and justice in our individual ways to help make the world a better place.  Sometimes we are not aware of the racism or any -ism around us, perhaps because of unspoken points of view.   However, I have noticed such in body language.  On a personal level, some of my friends bristle when around black people, I can sense their tightening up.  When an older person walks in the room, we (yes, I am in that category!) are either invisible/ignored, or just "not with it" enough to be interesting. When I was younger, I remember acting this way toward older people.  You can add several examples here I am sure.  Here is an interesting list of terms and their definitions that can help us understand how pervasive -isms (specifically racism) are:
https://www.aspeninstitute.org/blog-posts/structural-racism-definition/
Whether we deliver meals to elderly people confined to their homes, or bag up food for pantries, or attend protests, or work for the Census Bureau (which I will be doing later this summer and early fall), or pledge money to public radio/tv, or support the political candidate of our choice, whatever we do in the spirit of creating a more just world is commendable.  And, although Kristofer Hagen. M.D., took it upon himself to help create a better world, I often felt that he wanted to be the one who made lasting and permanent changes in our culture/society/world.  He (and Bertha) left their mark on the world, to be sure, and should we all be as gifted to do so, the world would definitely be a better place.  Their legacy is undeniable.
Camille Rogers, June 12:
My experience in Minnesota was 10 years. I remember hearing that St Louis Park was for the Jewish faith. I remember we had one Jewish person in Willmar Mn. and when one black fellow was there as part of the Air Force, that was stunning. Then we had one exchange student from Africa. I became good friends with him.
So, like you, Kathy, I too had to move. After high school, I hightailed it out to California. I went to college with – wait for it – with Blacks!! And it was not a big deal there, like it was in Minnesota. Never to go back. Thanks, Kathy.
We become so insulated that even though I lived and worked with many blacks in California, I was shocked one day when this young black couple at work –  this was 1980s or 1990s – told me they were driving to Oregon or Washington and had to carefully plan where they stopped overnight. I said why?  I was shocked and did not know it was dangerous for them to stop in some towns, especially Oregon. I hope that this is no longer the case.
Doggetts building on global experiences
This section starts with an op ed written by Kristina Doggett Hagen, included here rather than in the preceding section because it focuses on her current work supporting the State Senate Democratic Caucus  in Richmond, Virginia. The section continues with Doggett family reflections on past experiences as well as action options going forward from Niko Doggett, Tony Doggett, Elizabeth Davis, Barbara, Doggett, Gina Doggett, Carolyn Doggett Smith and Jeanie Smith. Thanks also to kind remarks on the website itself from Anne Doggett.
Kristina Doggett Hagen,  12 June
Kristina shares an op ed she helped write entitled How Virginia will tackle racial injustice by Dick Saslaw and Mamie E. Locke, The Washington Post, June 12, 2020 at 11:30 a.m. EDT: Dick Saslaw, a Democrat, is the Virginia Senate majority leader. Mamie E. Locke is chair of the Virginia Senate Democratic Caucus. Kristina is the Executive Director of the Virginia Senate Democratic Caucus .
The past few months — and the past few weeks in particular — have refocused our collective attention on the systemic racism that permeates our processes and structures.
For starters, we are seeing once and for all how a chronic lack of access to quality, affordable health care means that the novel coronavirus — a virus that does not discriminate when it comes to who gets it — is disproportionately killing black individuals.
We know that congregate settings are tinder boxes for the virus, yet efforts to hamper its spread by cutting short sentences for nonviolent prisoners or by releasing those who are eligible for parole are met with extreme pushback from the far right.
Meanwhile, police brutality has come back to the forefront of public discourse with yet more shocking videos surfacing over the past few weeks that have triggered deep-seated feelings of pain, frustration, anger and fear for many across our commonwealth and across our nation.
Elections matter. With Democratic majorities in both chambers of the Virginia legislature for the first time in 20 years — and with unprecedented numbers of black members serving as committee chairs and in positions of leadership — the 2020 legislative session was historic in many ways. We passed truly meaningful criminal justice reform measures.
We adopted laws requiring state and local law enforcement to record the race, ethnicity, age and gender of every Virginian stopped by law enforcement on a statewide basis, as well as the actions taken in such stops, for reporting purposes. We established reporting requirements for incidents involving school resource officers. We are also proud that last session we raised Virginia's misdemeanor-felony threshold from being the lowest in the nation, codified the end of license suspensions for unpaid court fines, decriminalized marijuana possession, prohibited disorderly conduct charges in school settings, raised the age for juveniles to be charged as adults, gave magistrates the discretion to set bail in all cases and authorized resentencing for individuals wrongfully sentenced after the Fishback case, which said juries should be alerted to the abolition of parole.
The 2020 legislative session was just the beginning. Over the coming months, we will be introducing measures to incorporate mandatory implicit-bias training for law enforcement across Virginia, reform parole, sentencing, expungement and barrier crimes, and eliminate mandatory minimum sentences in a system that has disproportionately impacted black Virginians.
We need to be mindful about how our law enforcement budgets are structured. We must incorporate better transparency and accountability measures into how our law enforcement teams are governed. We need to strengthen the processes by which we recruit, train and retain our law enforcement personnel. We need to reimagine some of the scenarios into which our law enforcement are being deployed, and we need to talk about demilitarizing local police forces. Furthermore, our law enforcement teams need to look like the communities they serve. They need to get out of their patrol cars and really get to know their communities. We need to train them well, and then we need to retrain them. We need to create ongoing training curriculums to include crisis de-escalation training and implicit-bias training. It is going to take time, but we must rebuild the trust that is currently lacking across our communities.
Progress comes when Democrats lead. We encourage Virginians to continue to work with us, communicate with us and join us in making progress. We cannot do this alone. Virginians' voices matter. Solving the challenges our communities face should be based on human value and human decency. We cannot allow history to continue to repeat itself.
Across our communities, people are angry. People are sad. We hear them, and we share the frustration. We have been here too many times before, and we cannot afford to come back to this same place again. We cannot erase the past, but together we can keep moving forward. This is more than a moment; this is a continuation of a movement. This is also not a black conversation or a black issue — this is a human issue. In the words of the Rev. Martin Luther King Jr.: "Injustice anywhere is a threat to justice everywhere."
We all have a right to live, to walk and to breathe.
Niko Doggett, 19 June
Preaching to the choir, but this is a conversation that I want to have with family right now. I think that, collectively, we have a perspective that can be productive in identifying the relationships between racism and white privilege, but I'm stuck, along with everyone else, about what to do about it. I can list lots of times, as an expat and at home, where I didn't ask for it, but certainly got a pass because of the color of my skin.
That notion of undue privilege is not much different than renting a house in Chevy Chase, Maryland in the early 60s, or joining a sports club in the area back then. White privilege was created by the establishment, even embodied in the constitution, and whites either demanded as much, or held their noses and accepted it. While some of those overt examples are a thing of the past, the economic damage of segregation remains, often in blighted urban areas. The playing field was never re-leveled, just the net was taken down.
Equal opportunity is not something that can be achieved without circumventing our capitalistic democracy, and probably not without structural changes to the US constitution. To make a difference, I think, requires an economic development plan surpassing the Marshall Plan, but that will never sell. Investment in basic infrastructure and affordable housing is an obvious, continual need. Upgrades and expansion of public services, especially health services is another area. But it will never be enough without other structural changes in society, especially the justice system.
What fun it is to design utopia! What policies do we need?
Barbara Maria Doggett, 19 June 2020
Really wonderful Kathy for you to put these words down – so many of our structures lack real integrity. I recently learned that over the last 40 years UNC (my progressive alma mater) has never enrolled more than 150 black students every year.  If a progressively minded institution isn't doing what it needs to – how much hope can we have elsewhere? I do have hope though, that over the last few weeks I have heard voices speak on these issues that were previously silent. Let it continue….
Tony Doggett, 19 June
Very well written and thought-out, Nikolaki.  One of the syndromes reinforcing inequality seems to be that primary schools in the U.S. are mainly funded through property taxes, so rich neighborhoods get more resources, better teachers, extracurricular activities, etc.  How about state-level policies mandating that all primary schools receive the same annual budget?  A portion of property taxes could be pooled for this purpose across counties, or some such.
Elizabeth Davis, 21 June 2020
Many of us have been posting resources on Facebook and informative articles.  I think we all agree on the heinous history of our nation and the need for change. Based on what I've been reading and advice and suggestions from Black friends and Black thought leaders on anti-racism, there are a couple very practical things we can do:
Learn. We know some but not all of the history. Commit to reading/listening to books and commentaries by Black voices on the history and what we need to understand about the history of racism in our country. This gives you a solid foundation and data and facts when engaging with those resistant to anti-racism efforts. On my list – The Warmth of Other Suns, Stamped from the Beginning, The New Jim Crow, White Fragility, Code Switch podcast
Don't ask your Black friends to be your teachers.  Forgive the analogy, but that's like asking a rape victim to recount her trauma over and over. There are tons of books and resources out there and tons of lists you can find recommending where to start.
Engage. Don't shy away from sharing resources on social media, even if you don't usually talk politics on Facebook.  Commit to hard conversations on and off line to help others be informed. Some people have totally closed minds, but there are a lot of people out there who can and will change their minds when they really understand the history.  It's staggering to Black people that white people don't know the history, but the reality is that *we don't know the history*. It isn't taught in school.  None of us learned about redlining in school. None of us learned about the Tulsa massacre in school. None of us learned about Juneteenth. There are a lot of people out there who can change their minds and understand if we commit to the hard conversations.
Introspection. Sit in the discomfort of realizing our own privilege but also – harder – our own biases and microaggressions that we may have inadvertently committed ourselves.  Racism is *deep* in our society and even those of us who are committed to being antiracist have made mistakes.  When we own our mistakes we can learn from them and we can do better.
Beyond learning – Vote.  Vote at the state and local level.  Most endemic, systemic racism is governed and enforced at the state and municipal level. If you're overseas and have selected "no intent to return" on your absentee voter registration, contact your election office to change to "intent to return" – if you've checked no intent to return, then you are only eligible to vote at the Federal level and we need to see change at the local level.
Related – volunteer with organizations to help register voters and get out the vote.
Start, sign, and circulate petitions to make anti-racism teaching part of the curriculum at your alma maters – including high schools. Depending on your school's history (ahem, I'm looking at my own William and Mary), there may be a need for a public apology.
Write to your representative to express support for such actions as a) demilitartizing the police b) reallocating police budgets to community programs, c) changing mandatory sentencing requirements d) require oversight of the judicial and prison systems to ensure private companies don't profit from the incarceration of our citizens (which because of our policing disproportionately means Black citizens). e) the removal of confederate monuments, honors (eg names of high schools, army bases, roads), and symbols.
Donate. Donate to political candidates who will advance anti-racism action. Donate to Black-run nonprofits focused of anti-racism work (eg NAACP legal fund). Offer to pay for resources for friends to read if they can't afford to buy books (or are unwilling).
Protest. There are a lot of people observing "wow, there are so many more white faces at the protest marches than ever before" followed by "I wonder how long that will last/is this only about getting Trump out of office?" Show up at protests. Organize your own protests. Keep sharing resources online. Stay engaged, stay active, stay an ally. Sometimes it feels overwhelming and I just want to give myself a break, but I remind myself that our Black brethren never – NEVER – get a break from the racism in our country that can kill them or kill someone they love. If we want to see radical change, then we have to commit to radical love for our fellow man.
This is obviously not a comprehensive list.  I welcome your additions about concrete steps we can take. We have to do more, though, than what's now being called hashtag activism.  If we're going to be true advocates of meaningful change, then we have to stay the course. I want to give as much power to the Black community as possible, but we have a responsibility to use our privilege to amplify their voices, insist on change, and fight for the future we want for our – for their – children.
Niko Doggett cont., 21 June
Thank you Elizabeth,
A few thoughts have come to mind. I think we need to be knowledgeable about the history and current situation in our own communities, and to speak out about shortcomings, and direct those voices toward elected officials. I have recently committed to learning more about redlining, polling, policing, and political history of Palm Beach County. Another area I am interested in: how do cops become cops? How are our colleges and universities contributing toward the problems as well as solutions? Another area that causes me some consternation is the role of unions in public service, not only police, but education as well. The dilemma to me is that collective bargaining is a necessary thing, especially in our society, and it also shields wrongdoing. When that wrongdoing involves protecting an officer's rights, and the oversight is internal to the agency, the result appears to be lasting protection for violence and the "bad actors."
Gina Doggett, 19 June
Wow Kathy, talk about hitting home!
I have been reading up on restrictive covenants, as well as redlining, that have together contributed to ongoing segregation despite legislation aimed at reducing it. The practices have both racist and financial roots, given realtors' fear that the presence of racial minorities brings down property values.
As for systemic racism in policing, yes we need to do so much more! Minneapolis has decided to completely dismantle its police force – a bold, ground-breaking move that seems almost like the least it and other cities could do to root out this scourge. I am dismayed though by the protest slogan "defund the police" – police budgets are ginormous and could be drastically cut back, but the message needs to be about restructuring the forces and especially the need to redefine their missions. Crucially, they need to be disarmed and demilitarized except for the few for whom carrying a weapon can be clearly justified. Is it really appropriate for traffic cops to carry weapons? And is it appropriate for cops, armed or not, to handle domestic violence situations? And of course cities must improve community/police relations in every possible way – for a start, it would be helpful for people to be policed by cops who look like them, and even know them personally. So far it seems the powers that be are against any form of defunding and instead propose throwing more money at the problem.
And yes, criminal justice is crying out for reform, not least in view of our staggeringly huge prison population, with so many serving unconscionably long sentences for non-violent crimes in facilities whose private owners profit from their incarceration. Something I learned that helped explain why cops kill hundreds of people annually (compared to single or low double digits in other advanced nations) with such impunity is the existence of "qualified immunity" for government officials. This doctrine is deeply flawed and the Supreme Court must retract it. Justice Sonia Sotomayor said last year that it "sanction(s) a 'shoot first, think later' approach to policing".
Finally, I couldn't agree more about our failure as a nation to redress the injustice and immorality that sparked the civil rights movement all those decades ago. Racism is entrenched, as well as the economic disenfranchisement that comes with it, with the issues of housing, education and infrastructure that you list. Cornel West, speaking to France 24, warned of an "explosion" because the system has become too rigid and lacking in legitimacy. Evoking French intellectual Alexis de Tocqueville's Democracy in America (1835), he said: "A system that is unable to reform itself and speak to the root origins and needs of an oppressed people results in explosion…. There will never be enough police, there'll never be enough cannon, there will never be enough military persons to generate… the consent of citizens when they view that status quo losing its legitimacy." And as we have seen in the protests over the Floyd murder, it's a growing inter-ethnic consensus that a system that could produce that — and throw millions of people out of work while handing out trillions to those who hardly need it — is BROKEN. It's going to be a long, hot summer.
Thanks Kathy, for stimulating this discussion within the family!
A couple of footnotes: One of the only downsides of Amboise is its lack of diversity and provincial nature. Our Turkish cleaner is one of very few non-whites we come into contact with, and on her first day with us her son asked if her wearing a veil bothered us.
Second footnote, on a lighter note: with your quarter and Peppy's quarter of Swedish genes, Kristina and PJ are also a quarter Swedish!  (Kathy's Note:  Check Deborah Smith's comments (above) about our Finnish/Mongoloid ancestry.  Of course, the whole issue of "race" has complications once you get going on "Who is a Caucasian?" since this encompasses many South Asians and others. But yes, white racism and white privilege have become entrenched in Western cultures.)
Jeanie Smith, 19 June
Such an important conversation. I also struggle with what I can personally do to help with this. Being aware of my privilege and trying personally to notice places where I am benefitting unfairly is one thing, but what to actually do to change this. Donations to worthy causes of course, voting for progressive candidates…what else? I am definitely trying to look for ways in which I respond to people with bias, but I really don't interact with that many people. So much of the problem is on a grand scale, it's hard to sort out what I can do that would have any lasting effect. I am making a deliberate effort to include diversity in the drawings and paintings of people that I post on social media, but the audience that hits is minuscule and largely not the people who need to see it.
Carolyn Doggett Smith, 24 June
Bill Kornblum and I wrote about this in our Social Problems textbook. Sociologists refer to it as "structural inequality" – inequality that is woven into the very fabric of society. The only way to truly fix this is to tear the structure apart and rebuild it. Unfortunately, this is (unlikely, impossible, not feasible, take your pick). The nation's founders might have been able to do this, but we know who they were.
What's left is piecemeal reform, and the difficulty here is mind-boggling, the police being a prime example. I can only hope that, given time, enough people will realize the need to make major changes* (*Consider handicap access as a moderately successful example) and that in the face of a rising tide, vested interests will have to yield. Again, though, we know who they are.
There's quite a bit of discussion of why there are so few blacks in our riverside communities – except in service occupations. The obvious answer is the cost of housing, and here I fault developers who promise low-income housing (and green space), and then renege. Even Guy and I, who are by no means low in resources, are stuck where we are because we can't afford anything else in the area.
Btw, my church has several effective outreach programs, which I can tell you about it you're interested. Most notably, twice a year we send a group of carpenters and others to help rebuild homes in the black area of New Orleans that was flooded by Hurricane Katrina.
Carol Doggett Smith, cont., 25 June
There's no question that institutional racism pervades our nation. Or call it structural inequality. But there are also bad apples that poison the barrel. And unfortunately a lot of them are cops. And there's also the camaraderie that can get in the way of careful judgment. But as we condemn the institution, and the institutional mythos, let's not forget that there are many caring, helpful people who deserve our respect and appreciation. Like the Putnam Valley sheriff who came to my aid when I lost track of Guy (long story). And the true heroes of 9/11. While we call for institutional reform, let's not assume that every member of a given institution necessarily shares whatever bad qualities are exhibited by, for example, killer cops.
The bad apple concept isn't just wishful thinking. I've read studies suggesting that in the absence of Hitler it might have been possible to avoid WWII. Also, that the assassination that started WWI almost didn't happen (I forget the details, but it seems that the assassin was in the wrong place at the right time).
Not entirely relevant to the current debate; just some random thoughts. I have been influenced by Stephen Pinker's book, "The Better Angels of Our Nature."
Kathy to Carol, 26 June:
Thanks for your emails and for your on-line comment in response to my essay on racism in America essay. …
On racism, the most impressive book I have read is Between the World and Me by Ta-Nehisi Coates. I was also very impressed yesterday by a Zoom-connected discussion with Francis Fukuyama and Danielle Allen, both of whom have articles in the latest issue of Foreign Affairs. Both of them lamented the polarization in American politics and the need for a new social compact. Danielle in particular spoke about the importance of re-inserting civic education into the curriculum of the public schools – and an emphasis on the principles of the Declaration of Independence. She was quite emphatic, too, that the Declaration of Independence was written by a committee and not just by Thomas Jefferson – and that the inputs from John Adams and Ben Franklin were especially significant. I understand that she served on a bipartisan Commission on the Practice of Democratic Citizenship which issued a report last year entitled Our Common Purpose:  Reinventing American Democracy in the Twenty-first Century.
Carol D. Smith, cont.,27 June:
OK, this is what we wrote in "Sociology in a Changing World."
At its simplest, institutional discrimination is the systematic exclusion of people from equal access to and participation in a particular institution because of their race, religion, or ethnicity. Over time, however, this intentional exclusion leads to another type of discrimination, which has been described as "the interaction of the various spheres of social life to maintain an overall pattern of oppression." This form of institutional discrimination can be quite complex.
(The conditions that led to the 1992 LA riots) …conform very well to what sociologists have observed in similar communities where blacks or other minority groups are trapped in a self-perpetuating set of circumstances caused largely by historical patterns of discrimination. Blocked educational opportunities result in low skill levels, which together with job discrimination limit the incomes of minority group members. Low income and residential discrimination force them to become concentrated in ghettos. The ghettos never receive adequate public services such as transportation, thus making the search for work even more difficult. In those neighborhoods, also, the schools do not stimulate achievement, thereby repeating the pattern in the next generation. The young often grow up bitter and angry and may form violent gangs… At the same time, the police patrol ghettos to the point of harassment, with the result that young blacks are more likely to be arrested – and to be denied jobs because of their arrest records….
All of the institutions involved – employers, local governments, schools, real estate agencies, agencies of social control – may claim that they apply consistent standards in making their decisions…. Yet in adhering to its institutional norms, each perpetuates a situation that was created by past discrimination.
Friends: Experiences and Perspectives
This selection identifies each friend by name and personal connection without giving any more detail. They include friends from my Greensboro, NC "fambly" who worked together on women's rights in the 1970s and 1980s, White House Fellows classmates with whom I served in 1979 to 1980, and from my later years in Geneva, Switzerland from 1994 to 2016.  Several of these selections include articles (mostly edited but still fairly long because of the issues and opportunities for action raised in them).
Ken Jones, WHF 1979-1980, 1 June:
The videos of George Floyd are like daggers through my heart. There is one close enough to hear him narrating the end of his life.  I now avoid watching.  Most depressing is that the sources of this saga are deeply ingrained in the American psyche. A saga that repeats itself over and over and over again. Every five years frustration at the assassination of unarmed Blacks boils over into the streets. I am sadly convinced that little to nothing will be done now about any root cause and this madness will continue.  Reference 400 years of history.  Unfit police and armed vigilantes feel entitled to dispense death with impunity. Detailed video of the crime is sometimes but not usually enough for the law to be applied justly. Still, thank God for video phones. The best we can hope for is some level of justice served for these particular perpetrators. Every Black father has had "The Talk" with their young son about behavior in the presence of police.  The birds and bees come later.
The resulting civil disturbances always have two distinct phenomenon, each carried out by different people.  One is peaceful civil disobedience based on overwhelming grief at the moment and frustration over a lifetime.  The second is the looting and burning carried out by those living at the dregs of the economy and/or at the ideological fringes, left and right, Antifa to white nationalists.  These ideological groups are using the protests as a cover to carry out their own agenda.  Altogether it adds up to pure hellish chaos, costly and futile.
Obama created a commission and laid out plans for 21st Century Policing. The Resident Idiot in the White House . . . need I say more?  I am ever an optimist but, while the moral arch of the universe bends toward justice, it s ungodly long.
Ken Jones cont., 22 June 
Earlier you remarked about my mention of "The Talk" that Black parents have with their children, especially sons.  Here is a Baltimore Sun feature article on the subject.  https://www.baltimoresun.com/maryland/baltimore-city/bs-md-black-parents-talk-20200622-ar5grhnyrbdm5brenetdcanjxe-story.html. Teaching about race in general and instructing about behavior in the presence of police are two distinct conversations. One is information about life and the other is serious instruction about how to stay alive.
Ken Jones cont., 24 June:
Pardon me for sending something so long.  It is a New York Times article from Wednesday on the subject we and you have been writing about.  This on the Fence experience.  I copied and pasted this since forwarding from the paper would likely also be blocked.
Oh!  Since we cannot come to Grasse anyway this year, it would be so ironic if the EU prevented access by Americans.  Vive La France!
George Floyd's Killing Forces Wider Debate on France's Slave-Trading Past
Rather than tear down statues, some argue that the past should not be obliterated, but remembered and explained.
"BORDEAUX, France — At a bend in the river, a succession of stately stone buildings, each more imposing than the last, stretches along the left bank. Their elegant 18th-century facade had helped Bordeaux, already famous for its wineries, become a UNESCO World Heritage site.
"This facade, it's a monumental and extraordinary heritage — and a sort of stage metaphor," said Laurent Védrine, director of the Museum of Aquitaine. "Let's go look behind the stone facade: Where did this wealth come from?"
Bordeaux, unlike much of France, began digging into that question more than a decade ago. It found that its grand buildings had been financed, in part, by the slave trade. Slavery touched on its monuments and its architecture. So the city began to address the past, but instead of tearing down the telltales of its ugly history, it has put up plaques to acknowledge and explain it.
Other European cities with similar histories have preferred to remain silent. But the killing of George Floyd by a police officer in Minneapolis has now widened and invigorated the debate over Europe's long, brutal and lucrative history in Africa, punctuated by the recent toppling of statues of colonial-era figures.
In France, a long history of slavery and colonialism has been eclipsed by a national narrative and self-identity as the revolutionary champion of universal human rights.
But France's colonialist past is a subject as sensitive as slavery is in the United States. Behind the refined facade of much of Europe, the world's most-visited tourist region, lies wealth that was generated by the trans-Atlantic slave trade and the subsequent colonization of the African continent.
Many decades after most African nations gained independence, there has been no complete coming to terms with that history, either in Europe or in Africa. Caught in the silence are people of African origin in Europe, where enduring racism, near-hysterical fear over migration and the failure to integrate generations of immigrants cannot be separated from that unresolved past.
"It's the inability to shed light on that past that maintains the racism and the impunity of the police, or the impunity of those who make decisions, in employment or in housing, based on physical criteria and deny the rights of French people who are black or Arab," said Karfa Diallo, the Senegalese-born founder of Mémoires et Partages, an organization that has pushed the city of Bordeaux to fully acknowledge its history. "It's never said as clearly as that, but that's the heart of the matter."
As researchers dug deeper into Bordeaux — past the sculpted African faces looking down from a building in the Place de la Bourse — they found logbooks, records, paintings, all showing that the French city in the interior, at a bend in the Garonne, had flourished because of commerce based on the enslavement of human beings.
This month, the city installed plaques on five residential streets named after prominent local men who were involved in the trans-Atlantic slave trade. One plaque, placed on the wall of a one-story house on Gramont Street, explained that Jacques-Barthélémy Gramont, a former mayor of Bordeaux, financed a slave-trading expedition in 1783 and two more in 1803.
"Getting rid of statues won't erase horrible crimes that have been committed," Mr. Fetouh said. "Not only do you not change history, but you also deprive yourself of ways of explaining it."
But Mr. Diallo said that Bordeaux — and France — should do more, especially in light of the anger stirred by Mr. Floyd's killing. Mr. Diallo said that while he found the possibility of financial reparations politically unrealistic, he believed the idea was morally just: When France abolished slavery in 1848, it compensated enslavers for their financial loss."
Lou Ruch, Greensboro Fambly, 19 June 2020:
Dear Kathy ,
While you were writing this wonderful & thoughtful essay in lovely Grasse, I was chanting Black Lives Matter here at a protest on Daniel Island, SC. I had tears because it has been 60 years I've been doing this. Can't imagine or know how exhausting & difficult it must be for all the African Americans. 400 years!!!
Thank you for your thoughts & recognition of our ignorance & unintentional racism as children. Also of our well intentioned parents who were progressives in our upbringing.  I want my granddaughters to know this family history and to understand that this is still an on going struggle – and that their turn to continue it is now! We may be getting closer to that wish for true equality, and maybe in their lifetime it will be so.
Barbara Ruby, Greensboro Fambly, 12 June: 
Good to hear from you!  I read your posting on Facebook about racism, which was compelling reading.  Here, there are too-many-to-count public postings by big business and organizations galore to try to show "solidarity" with blacks, but I've pasted below a link to a commentary from a black perspective (this was forwarded to me by a friend who is the executive director of an arts organization I volunteer with) that I find provocative, even if I don't agree with all of her comments.  In addition to anger, I think there is a lot of battle fatigue.  When you think of the many years of "good intentions," there are really few meaningful changes in many parts of our lives—we still live quite separate lives and have very different life experiences.
"Enough Already with the Statements of "Solidarity," Arts World," by Kaisha  Johnson, Founding Director, Women of Color in the Arts, 5 June 2020, Medium, Available at: https://medium.com/@kaijohnson1/enough-already-with-the-statements-of-solidarity-arts-world-c2d1ee03e899.
I've gone from awe to agony to anger in the course of three days. According to my spiritual goddess guide Audre Lorde, those uses of anger can be a powerful source of energy in serving progress and change. I'd say that my anger is more than a valid emotion in this moment. But actually, my ire hasn't manifested from the state-sponsored murder of yet another Black man and the social unrest that has ensued since. That elicits its own rage. I'm angry at the arts field's response to it.
As if moving to some syncopated symphony, arts organizations and cultural institutions across the country are parading out statements of "solidarity" in these moments. I've stopped counting (and reading) the endless emails I've received from arts organizations touting how they stand in solidarity with Black people. Statements which proclaim they're shutting down their operations and programming — galas and town halls and education programs are "going black." How cute. Now, all of a sudden, historically and predominantly white arts institutions want to be "in solidarity" with Black folks?
I know what solidarity looks like. And it ain't this. Much of the past ten years of my life leading Women of Color in the Arts (WOCA) — an organization dedicated to amplifying the voices of women of color arts leaders — has been sitting in rooms of mixed company and talking about how systems of oppression, specifically racism, sexism, and white supremacy, impact the arts sector — from leadership and organizational culture to artistic trends and philanthropic cycles. I've had endless exchanges with the predominantly white institutions that dominate our field and let me tell you that not only have they shown me that they are not in solidarity with Black people — they have shown me that they are against us. (Several examples are given.)….
These examples demonstrate how white supremacy culture shows up in everything. There's no room for solidarity in white supremacy culture. Capitalism doesn't allow it. Patriarchy doesn't allow it. Paternalism doesn't allow it. Power hoarding doesn't allow it. While I take great pleasure and pride in helping arts colleagues of all racial and cultural backgrounds better understand how pervasive and pernicious white supremacy and racism is in our field and within our organizations, it isn't about "changing hearts and minds," as some racial equity practitioners would have you believe.
Honestly, I could care less about changing hearts and minds. I'm about systems change. And, yes, while I understand that people create systems, I don't have the time or energy to change any one individual's psychology. I can tell you that Black lives matter all day long and we will still be denied that job, underpaid for that performance, locked out of that board room. We will still be choked out in public view. I've lived on this earth long enough to know that the only person I can change is me. Part of my work is to help facilitate critical dialogue around history and facts, and, activate critical thinking so people can better understand systems in order to make their own informed decisions of how they choose to participate within, or outside of, them.
Paul Sweeney, WHF 79-80, 1 July (sharing a message written by his sister, Joanne Berger-Sweeney, President of Trinity College)
Dear Members of the Trinity College Community,
I have been deeply affected by the events of the last several weeks. It's difficult to describe the range of emotions that I have felt in seeing anti-racism protests here and around the world, in reading descriptions of racist incidents that have happened on this campus, and in seeing reactions to those cries of pain. Personally, and in self-reflection, I have felt anger, disappointment, pain, a sense of responsibility, and, ultimately, hope. Here, let me share some of the principles that many of us hold dear, validate the expressions of pain that I've heard, show that we have listened deeply to our community (and will continue to do so), and evince what actions we are taking to come together as a community.
Today, with the rapid change occurring across America, we seem to be realizing what Martin Luther King Jr. referred to as a "fierce urgency of now." Our collective hope should be that this period in our history signals real and lasting change. We are passionately challenging systems of oppression that have allowed systemic racism to endure despite the bold promises on which this country was founded. These same systems have endured at institutions across the country and here at Trinity. So how will we take action? We are being handed an opportunity to create the community we wish to be.
We have heard your voices; we acknowledge that pain. Individuals across our community have shared their stories. It is clear that we have not yet made sufficient visible changes to support you, our students, faculty, and staff of color. This dialogue is continuing. We have not yet built the infrastructure for sustainable efforts and accountability in our diversity and inclusion efforts. It also is clear that there are segments of our community where hearts and minds have not yet been changed. Yet, we must persist.
Today, we, the senior administration of the college, commit to the following action steps. The Board of Trustees has unanimously endorsed these steps. We will:
Require all campus members, all trustees, and all key volunteers to complete anti-racist, unconscious bias, equity education in the fall.
Support the faculty Education Policy Committee (EPC) in creating six Special Opportunity Hires (preferably at the senior/tenured level) each year for the next three years to increase faculty diversity.
Change the names of Seabury and Wheaton Halls immediately. While we do not seek to erase these two prominent figures from Trinity's history, we do not support having our students live in residence halls that commemorate individuals who used religion to justify slavery. We will appoint a multi-constituent committee this fall to determine new names.
Fund the International Hip Hop Festival and Samba Fest ($50,000 each per year for the next three years, while we seek permanent endowments).
Make plans to renovate the Umoja House, the Asian-American Student Association (AASA) House, and La Eracra-La Voz Latina House.
Increase the racial and ethnic diversity of the Board of Trustees, with each new incoming class, to better reflect the current student body. We make the same commitment about the Board of Fellows, and ask the Trinity College Alumni Association to do the same.
Institute in fall 2020 a committee of the Board of Trustees, focused on addressing anti-racism at Trinity and promoting diversity and inclusion, that will create specific goals and outcomes; we will share progress toward these goals regularly.
Honor the contributions of people of color in the celebration of the college's bicentennial in 2023, and develop a comprehensive history that includes an honest telling of any institutional ties to slavery.
Develop an anti-racist summit and support other anti-racist programming to improve the campus climate beginning in the fall.
Convene multiple meetings with senior administrators and trustees and Black students and alumni to hear more from them and to invite their continued partnership in this work. These meetings will occur between now and the October meeting of the Board of Trustees.
We also will create a Task Force on Campus Climate, which will provide an ongoing infrastructure and key metrics to monitor our community's progress toward our goals. … We must hold ourselves accountable for achieving these goals.
Why I am hopeful:  I am hopeful because I believe fervently that higher education can be in the forefront of studying and addressing systemic racism in the United States…..
The Trinity community has my personal commitment that I will not let go of these challenges until we have changed for the better the experiences of people of color on our campus and improved racial justice and equity at this college. You can and should be part of the solution. I ask you to fight with me with Bantam spirit and pride for what our institution can and must be.
Judy Mercado, WHF 79-80, 2 July 2020
Kathy, your two articles uncover how difficult it has been/is to free ourselves from the oleaginous grip of racism—because it slides into new crevices and blends in with the environment, making it tough to detect. A big component of that is unconscious assumptions untested by different times/environments/people.
Minneapolis is an interesting case. I had always thought of it as a progressive city. A close long-time friend is from there, and I have visited. Other than because it's the tundra in winter, I would have moved there. My friend, as it happens, is Black and her family has always had a comfortable life. So I had no idea of the restrictive geographical/demographic features of life for Blacks that have now come to light because of Floyd.
France is another interesting case, as my earlier 20th century image of it relative to Blacks was that it was  haven for expatriate Black Americans. Cue in colonialism's sometimes unacknowledged impact on race relations, and I can begin to view it somewhat differently.
Thanks for your two excellent articles. They obviously triggered some necessary thinking on my part.
Judy Mercado, cont., 24 July 
(Kathy's Note: Judy has shared some of her poetry and reflections on her DNA that are a late addition to this compilation.  More contributions will be posted in the next segment of this conversation. But Judy's contributions here are included to suggest the diversity of views and styles that we can all be sharing. Please note that the following is copyrighted by Judith Mercado 2020.)
First poem by Judy::
We Haven't Solved Race
From the beginning
of this nation's creation,
race has ruled outcomes.
Natives' genocide
joined Blacks' brutal enslavement,
Asians' oppression.
Original sins
of our founding principals
remain unredeemed.
Though increasingly
we are now blended people,
skin color still kills.
A man named George Floyd,
yearning just to breathe freely,
slayed our amnesia.
Life and death cannot
hinge on deeply flawed beliefs
of supremacy.
How will we avoid
paying lip service to change
affirming fairness?
In play are real lives,
loved, productive, and valued,
needed for our strength.
Second poem by Judy:
My Traveling DNA
Flowing in my veins
this planet's history speaks,
love and war alike.
Sweden to Niger,
East to West Hemispheres,
my people were there.
Europe's larger share
joins the West's Indigenous.
Africa's there too.
Christian and Jewish
Muslim and Native beliefs,
all are in the mix.
Reaping benefits
of my full inheritance,
I caught its pains too.
In my DNA's
shared community lurks hope
we will get along.
As evidenced by my amazingly diverse DNA*, as follows,
 European 77%  –  Portugal, Spain, Jewish, England, Wales, France, Sweden, Basque, Ireland, Scotland, Sardinia
Native American 16%  –  Puerto Rico, Colombia, Venezuela, Haiti, Dominican Republic, Cuba, Mexico
African 7%  –  Northern Africa, Senegal, Cameroon, Congo, Southern Bantu Peoples, Nigeria
I am racially, culturally, spiritually, and geographically a blended person. Discovery of the breadth of that diversity has been humbling.  Those DNA findings explain to me finally why I have always sought to find common ground with others, even when sometimes little apparently existed. My DNA findings also explain why I do not find an easy fit in communities which consider themselves superior to others. Somewhere in my history, my ancestors were probably both among the oppressors as well as those oppressed.
I accept that most contributors to my DNA were possibly trying to do the best they could with what resources they had in their era. I am less accepting, though, if they displayed an unregenerate will to violence or unwillingness to embrace enlightened growth.  I accept even that the conquistadores of disparate origins were doing the best they knew, though today I find abhorrent their genocide, slavery, and violation. They were at least partially the products of their times.  Hopefully, when they knew better, they began to do better.
This ongoing process of striving to do better forms the basis of my life view. In effect, I can't hate any part of my DNA or I would hate part of me, if not also deny the range of what is in our capacity. I just ask that I, as well as my fellow humans, strive to include forgiveness, mercy, and kindness in the treatment of others, always being open to dialogue rather than to violence.
(Please note for above from Judy: copyright 2020 Judith Mercado.)
Daniel Warner, Geneva friend, 12 June 2020, Is This the Big One? , published in CounterPunch and Geneva Observer
Neither the Hayward nor the Andreas Fault can be repaired. From time to time there are tremors. Preventive measures have been taken in most cities on top of the faults. But if "The Big One" occurs – an earthquake of over 7.0 on the Richter scale – there will be considerable loss of life and damage.
The United States sits on a societal fault line. It is called slavery. Since the 1861-1865 Civil War, there have been tremors. To name just a few in recent history: 1965 Watts; Summer 1967 – when there were 159 riots across America; 1968 – all over the country following the assassination of Martin Luther King Jr.; 1992 – Los Angeles following Rodney King beating; 2014 Ferguson, Missouri – after shooting of Michael Brown and 2014 – New York after the choking death of Eric Garner. And there have been many, many more outbreaks of protests against racial injustice in the United States.
The fault line of slavery is still in the United States more than 150 years after the Emancipation Proclamation freed the slaves and the 13th Amendment officially ended slavery. Injustices remain. Just look at the statistics of who died from Covid-19 or jobless numbers.
Is there a Richter scale to measure racial protests? Is there a way of judging how each of the protests against racism advanced the cause of justice? Each protest was followed by a period of hope. But anger and frustration remain. There have been tremors but no major earthquake.
Is the killing of George Floyd the Big One? Is this the moment when the foundation of racial separation will crumble? We know that in the 1954 Supreme Court decision in Brown vs. Board of Education of Topeka, Kansas, the Court ruled that "separate-but-equal" education and other services were not, in fact, equal at all. But de jure decisions by courts and laws passed by Congress, such as the 1964 Civil Rights Act, are not the same as de facto integration. They are necessary but not sufficient.
"A house divided against itself cannot stand," President Abraham Lincoln said in 1858, arguing that a country built on the fault line of slavery will always be subject to tremors and earthquakes. The United States, according to Lincoln, could not survive on the fault line of slavery.
How to repair the original fault? Unlike South Africa after apartheid, the United States has never had an official Truth and Reconciliation Commission. While it could be argued that the Civil War ended slavery, there has never been a full reckoning of the role of slavery in the American experience. There have been calls for reparations; see the untiring work of political activist Roger Wareham and his colleagues. But the original sin has never been absolved. No penitence has been pronounced.
This latest tremor could be a beginning of a major rectification of the original fault. It could be The Big One in a positive sense. A new generation is taking over. More whites are participating in the marches. The historic demonstrations in places like Selma, Alabama, are being replaced by social media gatherings of protests throughout the United States. And this time there are marches against racism throughout the world. Black Lives Matter has become a global movement.
Deconstructing the movement is important. What started as protest against the police killing of George Floyd has expanded to include protests against police violence in general as well as the socioeconomic situation of Blacks. While the tipping point has been the video of the officer kneeling on the neck of Floyd, the protests have included much more. Calls for social justice include discrimination in jobs, housing and education.
The inclusiveness of the protests in form and content give reason for hope. But they also give cause for concern. Beyond anger and frustration, specific steps must be taken. The 1964 Civil Rights Act was a legal step forward. But more than legal actions are needed.
When the American football player Colin Kaepernick protested against racial injustice by kneeling during the playing of the national anthem in 2016 he became a center of media attention and also something of a pariah. Although a successful quarterback, Kaepernick was not hired by any team. Owners and league officials condemned him. Now apologies are coming in. Kneeling has become an accepted form of protest, including police and members of Congress.
Are these protests The Big One? No, they won't repair the fault line or overcome the legacy of slavery. Will they make a positive difference? Past protests have come and gone. Progress has been very small, if any. But this time there is energy from a new generation, without a leader like Martin Luther King Jr. but with social media. Schools have become more integrated. There have been societal changes following demographic shifts.
For those of another generation who had their hopes raised on other occasions – think of the election of Barack Obama only to be followed by the election of Donald Trump – there is reason to be hesitant. Please show me that this is really The Big One.
Jay Reich, 79-80 WHF,  28 June
I'd like to add my thanks as well, and recommend a book that picks up on several themes that Gordon and others raised but were not fully discussed. The book is by Jill Lapore (New Yorker writer and Harvard historian) and is entitled "These Truths." It is a one volume history of the United States focusing on the contradictions between our lofty founding documents and our reality then and now.  It picks up on Kevin's point that "truth" has always been elusive, but focuses on the weaponization of falsehoods in politics as perfected by campaign consultants over the last fifty years.  It picks up on Gordon's point that intentional deception in politics (and elsewhere) has been brought to new highs/lows by the internet and social media. Ultimately, she posits that our founding was an Enlightenment experiment; could "men" govern themselves through rational discourse. The experiment, plagued from inception by the definition of "we the people" and the application of "all men are created equal" and exacerbated by money and technology, may be failing.
Personal Follow-up
First, on racism in America, there is more to the Minneapolis story that triggered my writing with a renewed look at my early life there. I am especially beholden to Tracy Jan, a journalist with The Washington Post, who has written a thoughtful and penetrating analysis on 30 June 2020, on the challenges of growing inequality in that metropolitan area. Another critical view on the failings of white progressives comes from a former Minneapolis mayor, Betsy Hodges, whose op ed appeared in The New York Times on 9 July 2020. They are definitely worth further discussion about systemic racism and the search for ways to end it. Please see their articles here and here.
And beyond Minneapolis, the raising of awareness generally can benefit from an ongoing learning process. Paul Sweeney (WHF 79-80) has shared a helpful resource list that includes articles, books, podcasts, films and organizations, available on pdf on request. Several were also mentioned by Elizabeth Davis (above).  I have especially benefited from reading White Fragility by Robin DiAngelo and Between the World and Me by Ta-Nehisi Coates.  Jill Lapore's book These Truths (mentioned by Jay Reich) covers American history from a unique perspective – more on the impact of slavery in the early chapters and more on technological changes contributing to divided identities in the later chapters.
Second, on racism in France (and in Europe), I am encouraged to see more public discussion of the role of various European states in the slave trade but also their major role in colonialism, particularly in Africa but also in Asia. A very penetrating essay in The Economist addressed the inconsistencies in the views of many Europeans between being against slavery while supporting colonization, including where it sought to displace native populations (available here).  But my main focus has been on France, where I regret that President Emmanuel Macron has replaced a popular prime minister and reconfigured his cabinet in ways that are not encouraging for any effort to face up to racism in France.
Most commentators in the past couple of weeks have highlighted Macron's choice of a relative unknown as his second prime minister, but what I find more noteworthy are some of his other choices, and especially his choice for the Interior Ministry. The outgoing Minister of the Interior, Charles Castaner had spoken up about systemic racism in law enforcement and had even proposed to abolish the use of the choke-hold by the police. The new appointee, Gérald Darminin, is not only controversial among feminists for having been accused of rape, but he also has made a point of meeting with the police union as his first official act. The new Macron government seems to reflect his backing off from any public debate on either systemic racism or police brutality.
Going Forward
In the deluge of "things are different this time around", we can all hope that our actions will indeed help to make things different this time around. Exchanging ideas in this personalized conversation with family and friends is a useful and thought-provoking exercise in this time of crisis. Gina Doggett has referred to the writings of Alexis de Tocqueville, whose two volumes on Democracy in America, written by a Frenchman in 1835 and 1840 served as a major contribution to our understanding of American democracy. Their popularity has gone through cycles in the American academic world, with somewhat of a revival in the current Trump fiasco. The themes of "tyranny of the majority" from his first book and "soft despotism" from his second book are especially powerful today.  However, on the more fundamental question of living in a society where "Black Lives Matter", de Tocqueville is not the best guide – having been in both the abolitionist camp and the colonialism camp, as many Europeans were in those days.  But we have two crises to deal with right now – Trumpism and racism. Are we ready to continue this conversation? Well, make it three crises:  Covid-19, too.  Lots to keep on talking and writing about!