Moving from Phase 1 into Phase 2 and now into Phase 3 of the easing of French lockdown restrictions, we are wondering how our lives have changed. Not much, actually. And that is even though we are encouraged by the downward trends for the virus in France and the kudos for a successful process of easing out of lockdown here. We are awaiting THE vaccine, which means that not much has changed in our daily lifestyles. Of course, external events have changed dramatically. Separate musings have been posted  with personal reflections, one on racism in America and another on racism in France (and Europe). Here is the more humdrum one, as a parallel record to keep track of the impact of the pandemic on the daily lifestyle.
COVID-19 will forever be associated in my mind with what I have called the "New March Madness". It was during the month of March of this eventful year of 2020 that it finally sank in that we had to contend with a truly global pandemic. A pandemic spreading throughout that month of March by a virus that had no vaccine and no cure. A virus that had a frighteningly high mortality rate, especially for older people and people with other health conditions. 
I have written about effect of the lockdown announced by France's President Emmanual Macron on 13 March – when the world around us went silent – no airplanes in the sky, no commuters on the roads, businesses and schools closed and sporting events cancelled (the earliest of which, as a warning signal of the lockdown to come, was the NCAA basketball tournament in the US, otherwise known as the "March Madness"). And a crisis in the supply of masks and ventilators!  We eagerly if also fearfully settled down into our Villa Ndio cocoon to close ourselves off from any risk of contagion.
And I have written about the anticipation of easing out of the lockdown starting with "Phase 1" that started on 11 May of the gradual "decontainment" strategy as laid out by the French government . For us, it was like dipping our toes into a cold pool to determine if the water was warm enough for a swim – and opting to wait for a warmer day.
But here we are, having moved from a rather lengthy "Phase 1" (17 March to 11 May), through a relatively brief "Phase 2" (11 May to 15 June, ending a week earlier than originally anticipated) and now to an almost fully relaxed "Phase 3".  For us, there has been a gradual phasing in of more stores and schools opening, of more buses and trains going back into operation, and more freedom to venture beyond one's domicile.
Cautious Mobility
The main difference has been in our own mobility, albeit still limited.  Until 11 May, we were mostly home-bound, with infrequent trips to a pharmacy or a pick-up location for groceries ordered online. Even these had to be one person only, with an official "authorization form" and time-stamped. Starting on 11 May, we have enjoyed driving around town  – up to Cabris, through Grasse and down to Pegomas, but all within a few kilometers of Villa Ndio.  We stopped to take photos of butterflies and things but otherwise kept our distance from others.
We noted that more shops were open but not yet the open-air markets or the perfume tours – or the restaurants. And we were intrigued to see the pink umbrellas along the cobble-stoned streets of old-town Grasse back up, ready for the summer tourist season that might or might not take off.  But very few people were visible on the cobblestone streets underneath those umbrellas. (Grasse in June 2020 on the left, Grasse in July 2019 on the right.)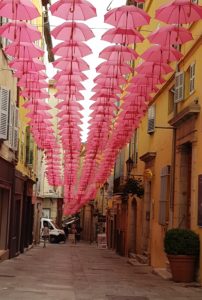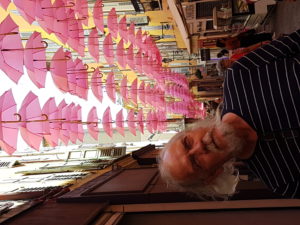 Although we opted to continue relying on the pick-up locations for on-line grocery store orders, Ralph has frequented a hardware or variety store or two to move ahead on our renovation priorities.  I myself have tried to become more physically active with longer walks around the neighborhood but have had to eliminate a few of the usual routes. Walking along a narrow canal path, for example, did not ensure adequate social distancing with oncoming pedestrians or joggers. And the wearing of masks has not yet become ubiquitous.
Moving a bit farther from home, I had my first post-lockdown medical appointment in Mouans-Sartoux, a nearby village, where I opted to be dropped off for a walk from the center of the village to the doctor's office. Yes, I did encounter more pedestrians wearing masks than not wearing them, but it was not ubiquitous.  I walked past shops with sparse clientele; I noticed a busy post office where the customers standing outside the door were appropriately masked and socially distanced in a line waiting to enter; and I skirted around a boule court where the elderly (and all  male) players had neither masks nor social distancing in practice. I even walked near a cluster of lively younger adults who were not only maskless but were eagerly greeting each other with traditional cheek-to-cheek bisous! Oh my, I thought, as I struggled past them in my home-made mask in the heat of the sunny afternoon.   We have a ways to go.
At the doctor's office itself, the mask-wearing rule was well established in advance. And the hand sanitizer. The office itself was unusually empty. No one at the reception desk, no one in the adjoining waiting room. I was early. I sat down in the empty waiting room to read a book that I had brought along. That was a good decision. A new sign in the waiting room encouraged visitors NOT to touch any of the magazines! The doctor eventually appeared accompanying a patient out of his examining room and through the front door. Only then did he retrieve me and invite me to enter his office and examining room. And I, too, was escorted out by the doctor before the next patient, who had arrived in the meantime and was sitting alone in the waiting room. So all appointments were timed farther apart than in the past. And no interactions occurred with anyone but the doctor.
Adventuring into Nice
More recently, in Phase 2, we decided to make the effort to retrieve our latest residence permits. This has always been an in-person ordeal, requiring multiple trips to the Prefecture in Nice each year and enduring crowded long lines and an inevitable bureaucratic glitch of one form or another. We had gone through the renewal visits in October and December but had to wait for the final pick-up of the permits until the end of the lockdown.  We checked the official website in advance, which listed the specified hours for retrievals. And we arrived at the duly specified time, only to discover that Phase 2 rules required making an appointment in advance for retrievals. The guards at the main gate pointed to a notice on the wall beside the gate. Here is a photo of the notice.
Fortunately, upon our return to Villa Ndio, we sent an email requesting the appointment and immediately got a reply granting us an appointment a few days later.  We searched the Internet for a copy of the notice that we had seen on the wall beside the gate but only found a small link from the front page to a different notice – several lines below the link to the old official hours (that were no longer valid but still on the website). Ah well, we didn't complain. We just went back on the appointed day and hour. And on this occasion, with all guards and a small number of visitors wearing masks and socially distancing from each other, we were allowed into the complex. There were no lines anywhere! The only visitors we saw inside the complex were sitting two meters apart waiting to apply for asylum. Thus, only permit retrievals and asylum applications were being processed.
Guards motioned us through designated empty lanes to a flank of windows, one of which was open with a masked woman behind a desk and a large box with files in it.  One by one we handed her our payment receipts, and she searched through the files for our permits. We signed a receipt, gave her our old permits, and off we went with our new permits. The guards directed us through a back door, and we were finished with the routine in less than 10 minutes!  In lieu of an ordeal that has typically required multiple 3-hour waits in line.
We agreed that it would be great if we could do it this way again! Usually, however, we would have taken advantage of driving to Nice to stop by a shopping mall along the beach or the famed flower market for lunch and shopping. And instead, on both of our trips to Nice, we decided we just wanted to go home to our cocoon.
Life in a Cocoon
To conclude with this chapter, then, the daily routine has not changed very much. We live in the safe haven of Villa Ndio (see below). Morning and afternoon segments of computer-driven work or gardening or photography are interspersed with lunch and dinner mealtimes, daily Skype chats with our grandson (his awesome smiling face below), and a growing number of Zoom calls with family and friends, mostly in the evenings. Virtual meetings of a professional nature are also becoming more regularized but hardly the same as meetings in person.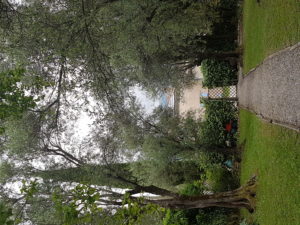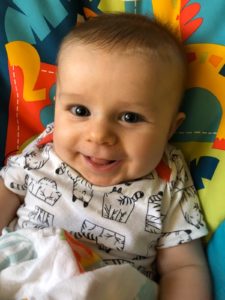 Domestic flights out of Nice have started operating, and we heard the first ones, visible overhead from our garden on 1 July.  Even international flights into  and out of Nice are now authorized for select countries – but not to or from the US, given the rising numbers of COVID-19 cases there.  However, we had already cancelled all our bookings for summer travel  and have postponed any future travel indefinitely. We were surprised to receive a wonderful wedding invitation from friends in Croatia, one of those events that we had assumed would have to be postponed but which will happen in August after all.  But there remains the issue of how to get there and back – safely, that is.
Otherwise, we have been very suddenly swept up in the 24-hour-a-day news cycle that shifted from a preoccupation with the coronavirus to the tsunami of protests over racism following the shocking murder of George Floyd in my hometown of Minneapolis and back again mostly but not entirely to the coronavirus because of the bad numbers there.  What to do with statues of people (mostly men, white men) associated with racism has been attracting heated debates, and the US presidential campaign is starting to heat up. And on a parallel track, we followed the second round of municipal elections here in France, as well as President Macron's response to a nationally convened conference on climate change, part of the government's response to the Gilets Jaunes protest movement.  Remember that?
All of this has involved mostly reading our Internet sources in the morning and watching CNN sources on TV in the evening.  But it has led to a search for new reading material to learn more about the issues around racism, intense discussions with each other and with others about what new actions we can take to make a difference. And, of course, we are all aware that the protests that have spread out across the world are occurring in spite of existing lockdown measures calling for facemasks and social distancing, as well as limiting crowd size.  The media reports we see do seem to show most protesters wearing facemasks, but certainly the social distancing and crowd size limits are unrealistic under the circumstances. So what will that mean for Covid-19? All is calm for now, at least here at Villa Ndio.