The "containment" for the stay-at-home lockdown in France officially began on 17 March 2020, but we had already embraced it from 10 March. I have called it the New March Madness because it finally sank in as we entered the month of March. This used to be the time of "March Madness" , the collegiate basketball tournaments that would carry players and fans to a fevered height  every March. An early warning signal that the pandemic was invisibly sweeping across the world was the abrupt decision in late February to cancel these collegiate tournaments. But it took more time than we should have required to absorb the all-encompassing severity of the COVID-19 pandemic. To me, it was a gradual but shocking awakening to a forecast that had often been mentioned but easily ignored for lack of a date certain. So it became my "new" March Madness.
Two months have now gone by in this isolating state, and we are about to ease into a new phase of "decontainment" starting Monday, 11 May. The worries loom large about what this means, even if it is clear that the "decontainment" will occur in stages over the next several weeks and possibly even months. There could yet be a second wave or even a third wave of contagion to force us back into "containment", but right now that is only a reminder from the authorities. Our first thought is to hop in the car and drive around to see what we have been missing over these past two months. Are the red poppies out along the roadways? Is the construction moving along for that long overdue discount grocery store nearby? What else might change in our lives is not so sure, but changes there will be. So here are some reflections on the unique characteristics of this two-month "stay-at-home adventure".
First, I have to say – we have to say – the lock-down didn't really change that much for us in our daily routines. Whatever work we were engaged in was essentially home-based already – photography and renovation work for Peppy, blogging and gardening for me. Well, mostly home-based but not that much of a change. Peppy had been used to venturing out here and there on his photographic adventures, and the lock-down meant that he had to concentrate his photographic excursions to our  multi-tiered yard – moonshots from the pool area, birds enticed by bird feeders hanging among the olive trees, bees in the lavender bushes, bugs wherever they might appear, and butterflies in what we started calling "butterfly alley".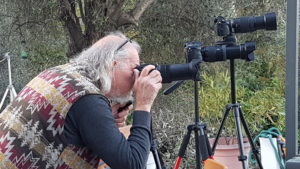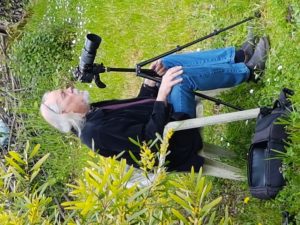 My blogging subjects had to shift away from the municipal elections or local exhibits I was covering, but I, too, had plenty of other subjects to occupy myself – like this New March Madness itself! The commentaries have accumulated at a steady pace.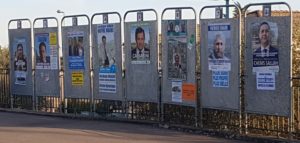 Anyway, our daily routines have otherwise continued as usual. Waking up at an early enough hour for coffee in bed while leisurely reading up on the news and catching up on emails. By mid-morning, we are ready for toast and more coffee, either by the pool or in the veranda. We part to our individual interests outside – or inside when the weather is bad – I to my "bird's nest" or Peppy to his "studio" – until getting back together for a late lunch around 2. The lock-down has brought us an extra benefit, though – a daily Skype chat with Kristina and our new grandson Remy – since Kristina, too, had to shift to working from home way off in Richmond VA. What a treat this has been!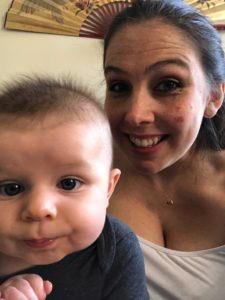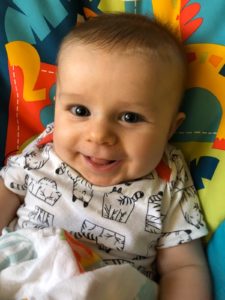 This welcome addition to our daily routine has altered our lunch hour to something closer to 3, but that only shortens our subsequent afternoon time back in our individual pursuits. We then reconvene for an evening walk at 6, slightly altered from a round-the-block walk to a straight down and up the hill of the private chemin shared with the homes of four neighbors, two of whom are unoccupied. So very quiet and safe from any public encounters.
The rest of the evening consists of coronavirus news on CNN – Inside Politics, CNN Breaking News, a bit of Christian Amanpour, then Richard Quest and a bit of Jake Tapper before shifting to Netflix. Different series have caught our attention – one on the Congo, then Outlander, and now Poldark. Sergio Vieira de Mello was featured in both drama and documentary. That was heavy, but it has mostly been easy entertainment. With Peppy working on his photographs and me playing Scrabble or Sudoku on our digital devices. And then off to bed.
Venturing out from this cocoon has been limited. One or two sessions with a dentist or physician and picking up prescriptions at a pharmacy. And mostly weekly trips to a pick-up location for groceries – LeClerc or Auchan mostly but also Carrefour. None has yet to start home deliveries in the area. I did go to Auchan grocery store (not the online order pick-up location) once, with great reluctance – waiting in line with grocery carts a safe distance from each other as a control of the numbers inside the grocery store itself, picking up the items that we had not been able to order online (coffee pods, popcorn, ice cream).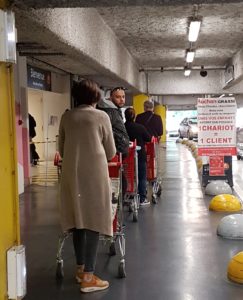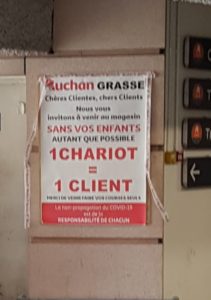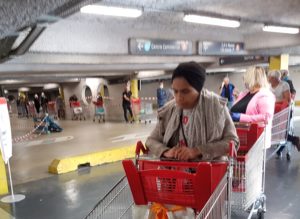 Each trip out requires filling out an "authorization" form and has to be done solo. Some of these trips also include disposing of trash and recycling. But the déchetterie has been closed. So lots of yard clippings and weeds have accumulated.
Trips out have required attentiveness to personal safety, including face masks. So one deviation from our daily routines was for me to pull out my sewing machine and stitch together a variety of face masks. We even gave them as "Easter" gifts to our neighbors, but I decided they were too amateurish to offer to anyone else. And certainly not to anyone involved in the health care system.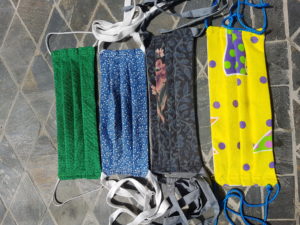 What else have we been doing? Cleaning up and reorganizing things – the grenier, the old photographs in boxes, the abri, the old clothing we have resisted giving up….Lots of Amazon deliveries. Zoom calls had some appeal for the Doggetts but fizzled. Zoom calls with the Hagen/Smith clan have worked out better. But not for Peppy. Too much cacophony there. But then there's plenty of Skype and Facebook distractions, too. Here we see both Kristina and PJ during a Skype chat, suitably attired outdoors in Richmond with their face masks.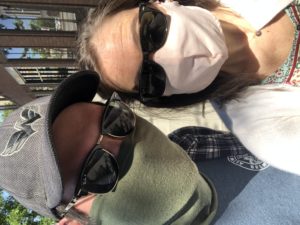 What have we missed? Easter weekend festivities with friends and family. Shopping – hardware and garden stores mostly but also clothing, shoes, housewares. We have actually saved quite a lot of money. No eating out or visits to shopping malls. No English classes. No local cultural events or friends in the making.  Cancelled trip to the US in July. Gradually realizing that the "new normal" of "decontainment" will be very different from the "old normal".
It's not like the lock-down has worked to stop the spread of the virus. It has only worked to slow it down and helped with identifying the "hot spots" for additional controls. How normal can a "new normal" under the circumstances actually be? The virus is still out there. So physical distancing has to somehow be maintained even as stores and businesses are opened back up. Face masks have to be at the ready inside any commercial establishment or public transport. Airplanes seem to be out of the question for anyone worried about their personal safety. Restaurants and bars might open up soon, but we don't expect to go to any for now. Museums? Parks? Open air markets? We'll see. No sporting events or music festivals or parades at all. Will we have to cancel or pay a penalty for cancelling the Airbnb bookings at Villa Ndio – fully booked in August but fortunately all bookings before then had thankfully been cancelled?
And how about health care? Both of us need to be cautious, given our age. We need to take care of all those "elective" measures that were postponed during our lock-down. How can we do any of this even after things open up? Can any of this be safe? When will that vaccine come to save us all? Is it really 12 to 18 months still? Or even longer?
The reality is setting in. OK, no trip to the US in July. Probably no trip to Croatia in August. Is the wedding still on schedule? No visit from Kristina, Julian and Remy in August. No White House Fellows reunion here in September. Maybe English classes will start again in September. But what else? When will PJ and Sarah come for a visit? Will Becky and Scott reopen their restaurant in Portland? And will Kristina, Julian and Remy even be able to carry through on their Christmas holiday plans for both Bristol and Grasse?  How will the economy be faring? Will our income flows be safe? Where will our children be? And what about all those people who can't protect themselves? And those who are boldly protecting others? So many questions. So much uncertainty. The magnitude of this disaster is just setting in.