"COP 25" is wrapping up in Madrid as I sit at my desk in my "birds' nest" of an office looking out at a wintry scene of an early dusk that brings a glow of the setting sun to the olive and cypress trees just outside my window. I am overdue to wrap up my series of reports on the 2019 Paris Peace Forum with some observations about what transpired there on the issue of climate change. And here it is long past the brief moment in the sunshine for that event (weeks ago in November!) as the whirlwind of climate change activists – and the media – have converged instead around COP 25 in Madrid. I am, however, quite mellow as I sit in my "birds' nest" and mull over what I might write about this issue.  Neither the Paris Peace Forum nor the Madrid COP 25 will be seen as pivotal events for climate change, even as the issue is clearly mounting in media attention and public policy concern. But the one big takeaway that I learned at the Paris Peace Forum is that significant incremental action is taking hold.
We have recently weathered a series of "code orange" and even "code red" storms in the region. As with weather-related catastrophes elsewhere around the world, the French local and national authorities correctly and successfully put a priority on saving lives. The damage to infrastructure, however, was also minimal. Elsewhere, though, the rise in catastrophic weather events attributable to climate change has not been so kind. And while the priority has consistently been to save lives and worry about the rest later, there is a growing awareness about  The contrast between successful interventions to save lives and the devastating vulnerability of severe climate events to infrastructure damage was the focus of an informative panel discussion at the 2019 Paris Peace Forum. So forget for now the COP 25 sirens that beckon, and let's concentrate instead on the infrastructure message.
Surviving Climate Wrath: Building Resilient Infrastructure in an Age of Global Warming
This was the name of the panel discussion I happened upon in my wanderings at the 2019 Paris Peace Forum. Upon entering the auditorium where the panel was already on stage, I saw that it was yet another of the many Forum events with an all-male panel – only the moderator was female. (One hopes that the organizers of future forums will be fully attentive to avoiding this imbalance in the future.)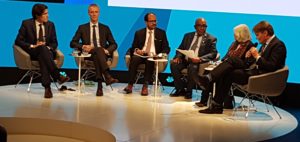 Otherwise, it was balanced to include North and South, government and civil society and even a private sector representative – but not much of a generational balance. Anyway, it was a good discussion.
The most striking point was about the catastrophic nature of typhoons and cyclones that has alarmed all of us with their enormous loss of life. But even as their severity has increased, the improved forecasting and effective ramping up of public interventions to move people into safe havens have resulted in dramatic reductions in human losses. We heard from Kamal Kishore, head of the National Disaster Management Authority in India, that the east coastline of India has been especially hard-hit with three recent catastrophic events, one after another. And yet there was a 95 per cent reduction in deaths in the last one because of the government's disaster-preparedness measures and movement of people away from targeted areas. This is an awesome accomplishment in human lives saved.
Sustainability and the Social Fabric
BUT the side effect is that the people whose lives have been saved no longer have any LIVELIHOODS! The physical devastation on infrastructure is more than cement for roads; it is ports and airports and warehouses but also cash machines and phones and delivery systems – all of the support systems that enable people to earn a livelihood. Furthermore, he observed, the whole geography of floods is changing. No place can be left behind. Everyone lives downstream.
Another panelist, Laurence Tubiana from the European Climate Foundation confirmed that this infrastructure crisis is upon us. The Paris Agreement on Climate Change might have given priority to setting a long-range target of 1.5 degrees Celsius, with provisions to have an adaptation plan along the way. Five years ago, he said, the question was how to transfer finance to impacts for the future, but now the impacts are here right now. And the costs are really, really high. Adaptation is now at the center of his foundation's efforts. And our growing appreciation of ecosystems requires us to look at more than roads, to include biodiversity and natural resources. Our very social fabric, he said, is at issue.
Encouraging news came from a third panelist, Koen Doens from the European Union's DEVCO. He praised the new Commission under Ursula van der Leyden for raising the priority and resource commitments for the EU's Green Deal. In that context, the Paris Agreement, he said, has helped everyone, including at the EU, to focus on both mitigation and adaptation. There is an absolute need for evidence-based data collection for policy guidance and working with partners for country-level risk profiles. Resilience infrastructure investment is embracing things well beyond roads to include water and sanitation and schools for a comprehensive resilience profile.
Reference was made to how successful the Japanese have been to build an infrastructure that is resistant to earthquakes. And reference was also made to the Dutch years ago collaborating to build dikes against flooding – something which is requiring renewed and heightened action amidst the impact of climate change on sea levels today. Mr. Doens concluded, though, that large populations will still be hit hard, even with these kinds of resilient infrastructure systems in place (as evidenced by Mr. Kishore's experiences in India) and that the insurance business can play an important back-up role to protect those who are likely to be hit the hardest.
Innovative Insurance Tools
That led rather conveniently to the AXA Climate (i.e. an insurance company) representative on the panel, Antoine Danoix. (Maybe this was the whole point of the panel?) His company, he said, is dealing with the challenge of reducing the protection/impact gap even as the gap is growing wider. They are experimenting with different types of insurance products in which insurance goes to the insured based on the severity level. Farming infrastructure is one area where insurance pools are being developed (example cited from the Philippines), with automatic payments from insurance and payments back once recovery is underway. The main idea is to combine insurance and credit, as in financing for renewable energy with high risk volatility, thereby developing "parametric" insurance to do things differently.
Forgive me for using lay language here to cite what the experts were saying. My takeaway from this panel discussion is that adaptation to catastrophes (both resilience and recovery) has a multi-sectoral feature that is compelling us to implement sustainable livelihood strategies today. Resilience of infrastructure is a lynchpin of survival and is far-reaching. It even includes resilience of the social fabric that enables livelihoods. And this requires innovative approaches to adaptation that are so dramatic and yet so incremental that they are both livelihood-changing and yet basically simple and pragmatic steps. Climate change activists should take note of this undercurrent of action on resilience. It may well serve as the impetus for a groundswell of support that doesn't yet exist for climate change generally.
COP 25 and Beyond
Madrid's COP 25 is being portrayed as an ideological divide between the alarmist rhetoric of demonstrators trying to instill a sense of urgency outside and climate change-resistant negotiators trying to finalize rules for a carbon market and for loss and damage protection inside. I used to devour the daily telecasts and commentaries of these COPs with passioned intensity and would prepare in-depth reports of the ups and downs of the substantive negotiations.  Take note here that "COP" is used for the annual gatherings of what is known as the "Conference of the Parties" for the UN Framework Convention on Climate Change (UNFCCC) and its follow-ups like the Kyoto Protocol of 1998 and the Paris Agreement on Climate Change of 2016. Other treaty bodies in other fields also use this same nomenclature (COPs), but it seems that the abbreviation COP plus a number (25 of them since the adoption of the convention itself) has stuck most vividly with these annual climate change conferences.
Having evolved to a more disengaged – and even a more disenchanted – position in recent years, I admire the image of Greta Thunberg as a symbol of the generational divide between those of us who take incremental steps and those who are demanding more dramatic action. Those agitators outside are especially attached to the theme for COP 25 – a "Time for Action". However, even as I wish there were more Gretas capturing the public's imagination, I remain cynical about the usefulness of a COP-driven set of treaties that identify ambitious climate targets for 2030 and 2050 and 2100 but have no agreement in place on how to achieve those targets.  The villains, to be sure, are easy to identify – the US and Brazil and Saudi Arabia, all associated with the fossil fuel industries – but there are others, like India or China, whose interests are more oriented to the role of energy in economic growth.
For the UNFCCC and the Paris Agreement, the clincher COP is not this one in Madrid but rather, the next one in Glasgow, i.e. COP 26. Even as COP 25 was subject to last-minute changes in venue – first Rio de Janeiro until Brazil's change of government led it to join the US in announcing a withdrawal from the Paris Agreement, then Santiago until Chile's street protests and constitutional crisis led the convenors to find a receptive Spanish government to hold it in Madrid; this Glasgow location has been fixed for some time and not likely to move. Well, that is, as long as Brexit doesn't mess up the relations between the UK/England and the Scottish separatists! So we will all look to COP 26 in Glasgow for the 2020 threshold for entry into force of the Paris Agreement and the whole display of NEW carbon reduction commitments by member states on that occasion. (Or more accurately, one might hope for a clearer articulation of the pragmatic value and benefit of change for the sake of sustainable livelihoods individually and for the social fabric collectively.)