Warm greetings to you for a happy and peaceful holiday season and a fulfilling and inclusive 2019. As this eventful year of 2018 comes to an end, we share happy memories of family and friends at Villa Ndio and in our explorations with them of so many "new" sites (for us) near and far from our home base. Politically, too, we reflect on the "blue wave" in our home of citizenship and on "the yellow vests" in our home of retirement as ex pats here in France. Where will we be after the many turning point events of 2019 have brought us to this same time next year?
We are still cheering the "blue wave" that delivered a Democratic majority in the US House of Representatives plus significant gains at state and local levels. We look forward to key state-level elections in Virginia in 2019 and THEN the BIG one in 2020 (maybe even earlier, of course). We are aware that political advocacy starts at the local level, and so we stay connected to our home base in Virginia.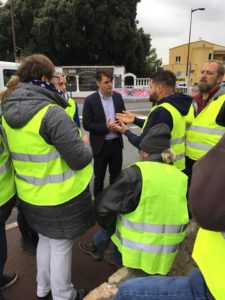 As expats living in France, however, we can appreciate the local nature of the French political world, too.  The "gilets jaunes" movement has had a very local impact for us, vividly portrayed by the sight of the mayor of Grasse urging the contingent of dedicated protesters ensconced in their bright yellow vests beside the traffic circle nearby to refrain from blocking the traffic. On the Saturday of the first week, it was such an effective bottleneck that local shops simply had to close down, including the olive oil mill that was processing our newly harvested olives. Since then, and thanks to the mayor's intervention, the traffic is flowing and the shops are open, even as the diehards are still at the traffic circle in the seventh week of protests.
How will the movement develop in the coming year? President Macron's responses in December have been oriented to domestic issues, but he has also proposed a national consultation/dialogue for the first three months of 2019. We will be following this debate as it addresses issues like climate change, immigration and Internet privacy, which are also the big issues for us in both the fate of Brexit in March and European Parliament's elections in May.
On a personal front, we had many happy moments this past year.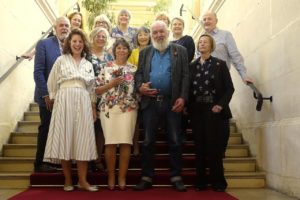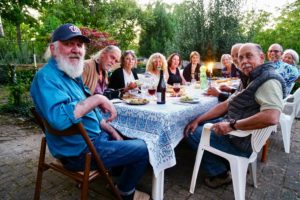 Gina and GéGé's wedding in Paris was one such joyful celebration, preceded, too by their hosting a Doggett sibling reunion in Amboise in September, with all the musical trimmings of a typical Doggett gathering. Earlier in the year, we enjoyed a delightful Easter celebration here with our son PJ, along with fascinating side trips to the American World War II cemetery in Draguignan and a tour of the Gorge du Verdon – both of which were a long overdue first for us! And then we did another fantastic and first-ever tour of nearby Corsica when our daughter Kristina and her spouse Julian came for a visit in May.  They even blessed us with a return visit in September when we shared yet another first to visit the famed "pink" city of Toulouse.
Friendships are important, too. We have welcomed many of you for visits to Villa Ndio – thanks to Ann Ladd, Ken and Paula Jordan, Bobette Eckland and Rich Kamens for filling our home at various times of the year with their warmth! And each one took us to new places nearby – Tourettes, Tanneron, Moustiers-Sainte-Marie, Biot, Hyères! It's about time that we got acquainted with such remarkable French attractions both near and far from our retirement base at Villa Ndio. Most of all, we have appreciated the opportunity to do these things with family and friends. So please do come for a visit whenever you can!  We don't expect to run out of "firsts" for the foreseeable future.
Professionally, we are still transitioning to a semi-retired lifestyle. Peppy has been refining his photographic skills in particular, with great collections from our travels and your visits around France but also portraying our olive harvesting adventure!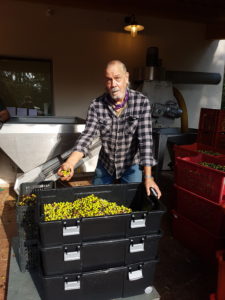 This last was a truly BIG first event for us, and we expect to repeat it in the years ahead. See the photographic collections, along with Peppy's blogs on www.villandio.net. Peppy is also active in his role as president of the board of directors for the International School of Bangkok, which took him in August to yet another heartwarming and fun-filled biennial ISB alumni reunion in Nashville. Kathy, meanwhile, has been filling her own website (www.katherinehagen.net) with in-depth commentaries on immigration, Internet privacy, human rights and climate change. She has also taken on the volunteer project of providing weekly English lessons in the village of Peymeinade, and she is starting work on a book about inclusiveness in international relations.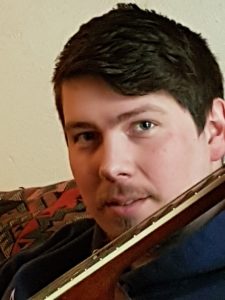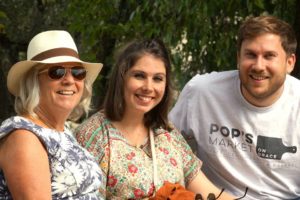 Enjoy the holiday season! Please let us know how you are doing!
Ralph (Peppy) Doggett and Katherine (Kathy) Hagen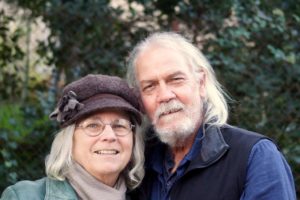 Websites : www.villandio.net and www.katherinehagen.net